News
Invitation: Found ă mentalism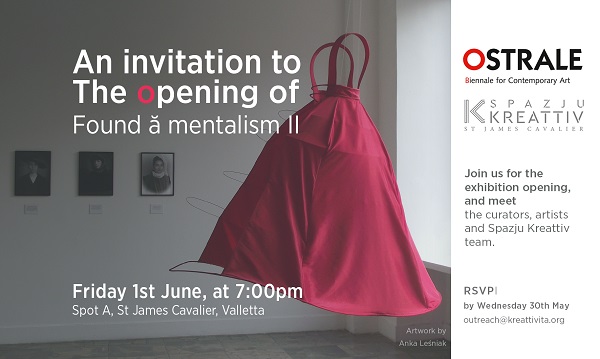 Found ă mentalism II is inspired by Picasso's words about his famous Guernica; "[...] "Artists who live and work with spiritual values cannot and should not remain indifferent to a conflict in which the highest values of humanity and civilization are at stake."

Through the exhibition we invite you to reflect and get new impressions about this topic just to ensure that art will carry on the spirit of Picasso's words. Cause we shouldn´t be indifferent to all the conflicts and struggles around us. Through the project, we suggest perspectives and possibilities for a better future.

Found ă mentalism II heralds the growth of a diverse cultural, political and economic European society. Global conflicts and increasing migration flows provide an opportunity for art, to act against potential violence and embrace cultural diversity.

The issue proposes a journey through a European culture, which is common and diverse at once. We are asking if art is able to act as a mutual support between these diverse cultures, and if this provide a remedy for current societal crisis.

Andrea Hilger, Antka Hofman, Co-curators, OSTRALE

The contemporary art scene in Malta gets more and more dynamic and diverse. Exchanges such as the collaboration between the OSTRALE and Spazju Kreattiv serve the intercultural exchange, reinforce collaborations and encourage the growth of the artistic community, while providing further opportunities for broader audiences to access contemporary art on an international level.

Toni Sant, Spazju Kreattiv Artistic Director


Space A
Karen Gäbler (DE), Anka Leśniak (PL), Feng Lu (CN), Antka Hofmann (DE), Else Gold (DE), Gery De Smet (BE), Martin Müller (DE), Ran Slavin (IL), Katrin König (DE), Philipp Gloger (DE)
Space B
Tobias Köbsch (DE), Annelise Bully (FR), Frenzy Höhne (DE), Arne Kalkbrenner (DE), Stefan Plenkers (DE), Steffen Otto (DE), Dmytro Petryna (UA)
Space C1
Marcin Owczarek (PL), Otto Berndt Steffen (DE), Henri Deparade (DE)
Space C2
Dani Nordt (DE), Carolin Koss (DE)
Space C3
Nevet Yitzhak (IL)
Space C4
Melanie Kramer (DE), Peter Makolies (DE), Rose Stach (DE), Till Ansgar Baumhauer (DE), Faig Ahmed (AZ), Małgorzata Myślińska (PL), Martyna Jastrzebska (PL), Stephanie Marx (DE)
Spot A
Paolo Assenza (IT), Nathalie Bertrams (DE), Daniel Kiczales (IL), Ulrike Mundt (DE), Ekkhard Tischendorf (DE), Katerina Belkina (RU)
Spot B
Urban Grünfelder (AU), Mavi Garcia (ES), Shahar Marcus (IL)
Cinema
Kay Kaul (DE)
Recruitement for OSTRALE Biennial 2019
Please click on the corresponding category:
Assistants

We are looking forward to you applications!


News
Call for Applications for OSTRALE Biennale O19
From June 28th to September 29th 2019 the 12th OSTRALE, will attend in the second Biennial to the lead motif "ism". While boundaries between reality and fiction are increasingly blurred by digital revolution and virtual reality, the request for long established "isms" is on the rise. They are consulted to protect "our" values and world views, defend them, and give them more support. àPure nostalgia?
Isms are most commonly applied as dogmas, confrontation, artistic categories or social values. Always manmade they also pose as distinction to "other" worldviews. Nonetheless, or possibly even due to this power of individual spirit and collective bonds Isms are also seen as the "liberty" to redefine values.

Application Possibilities for Artists

1. Application for Biennale O19 - "isms" 28.06.-29.09.2019
2. Application for OSTRALE Artist in Residence 2018
3. Application for art in public space 2018/19
short describtion for Artist in Residence: The artist in residence includes the discussion of the topic: dealing with media. Every invited artist gets a container (7 are available). The container should convey the contents of the concept in a low-threshold yet high quality, with artistic media, be a total work of art and, above all, the work must function autonomously. This means that the container should be able to stand at places that are far from art and free of secured places and should only be locked up again in the evening. The container is intended for the freely accessible public space, insurance is excluded. Furthermore, the elaboration or the content etc. shall be developed in close cooperation with young people within the framework of workshops.

short describtion for Art in Public Space: If you are applying exclusively or additionally for the sub-project Art in Public Space 2018/19, please upload a two-page concept proposal as PDF via one of the work tabs of this form.
The displayed Art in Public Space 2018 can be thought to be placed on the Elbwiesen site (and only this site), the space around the river Elbe. Due to flood protection measures the artwork must be degradable within one night, easily visible from the other side of the river Elbe and publicly safe. There will be a security service. When your public artwork is thought to be shown on other sites in the public space, public safety and stability as well as statics must be proven. There is no security service in public places and insurance is excluded.

The online application platform is open from January 15th to April 15th 2018. During this period you are welcome to hand in your concepts and documents via the platform. All applications will be reviewed by a jury. The written jury decision will be send to all applicants in the 23rd calendar week of 2018. Before entering your application we kindly request that you read all requirements on our website and obey by the delineated requirements. Participation Fee: 12,00 Euro per participant (not per artwork!).

Link: Online Application for the OSTRALE Biennal 019

for Download: short explanations for applications for OSTRALE Biennal 019, as pdf

Telephone: +49 (0)351 653 37 63 e-Mail: post@ostrale.de Website: www.ostrale.de

Of course we wish you all a merry Christmas and a creative start into the New Year 2018. We are happy to accompany you to the next working phase with "curism" and the work by the artist Shahar Marcus (OSTRALE O16 error:x).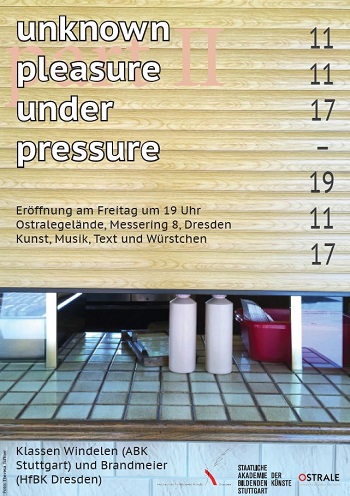 Unknown Pleasure Under Pressure II
10.11. – 19.11.2017
The OSTRALE welcomes the students of the sculptor classes of Prof. Susanne Windelen (ABK Stuttgart) and Prof. Monika Brandmeier (HfBK Dresden). Together the students of both classes will develop and realize new projects for the exhibition ground OSTRALE. The opening was at November 10th 2017. Opening times: Mo-Su 11-17
"Guild of the Arts" – the iron count invites!
From November 18th to November 19th: 11:00 to 19:00
Already for the third time "Guild of the Arts" presents sculptures, jewelry, paintings, graphics as well as wood and ceramic works of a variety of artists in the exceptional ambience of the old slaughterhouse. Enjoy the season's first Glühwein and indulge in our free of charge buffet of cakes. All this is accompanied by handmade live music throughout the afternoon.
OSTRALE Biennale 2017 is over.
OSTRALE closed it's doors on October 1st this year. We want to thank the more than 30.000 visitors. The art is now on it's way back to galleries, artists and collectors and we are busy planning the exhibitions 2018/ 2019 as well as many more small exiting events.
Out of OSTRALE - Edition "re_zept"
09.10.2017 -26.01.2017 Out of OSTRALE - Edition "re_zept"
OSTRALE presents a selection of its works from this year's exhibition re_form at Uniklinikum Carl Gustav Carus.
Unbearable Lightness of Being – Exhibition in Poznań
19.10.2017-28.10.2017 Nieznośna lekkość bytu / Unbearable Lightness of Being – Exhibition in Poznań. For a small but excellent exhibition in cooperation with the Czapski Art Foundation (http://czapski.art.pl/) three OSTRALE artists are exhibited in Poznań.
The OSTRALE Catalogue is here!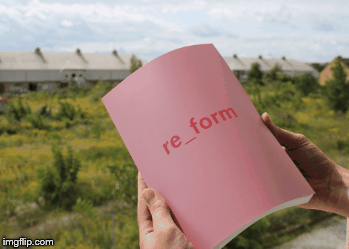 The Catalogue is available at the cashier and you can order it under post@ostrale.de
Price: 25€
Events in September at OSTRALE
03.09. und 17.09.17, 11-12:30
Curator tour and Artist's discussion OSTRALE Biennale
On Sunday the third of September and Sunday the seventeenth at eleven o'clock: Curator tours at OSTRALE - Biennale. In a supposed timespan of one thousand years, five hundred years before and after Luther's Theses, the ''basis'' according to ''re'', we offer visitors a ''form'' building tour with a literary accompaniment from Lasszlo F. Földenyi: 'Life is a short burst of light between two eternities.'
We will discuss the overall curatorial concept of this years biennale as well as the procurement of the art works. Selected artists will accompany curators within the framework of a tour and who will also present specific works of art.
Times: 03.09. and 17.09, 11-12:30. Groups will insist of a maximum of 20 people. Contact us at post@ostrtale.de about the special price of €15/10.



07.09. / 21.09 at 16:00
For all the Senses - Seeing in Darkness
OSTRALE will bring an opportunity for the sighted and visually impaired to form an artistic exchange and to extend the horizon for the artistic community by joint tours for the visually impaired and sighted. Starts, 16:00
The 11th OSTRALE International Exhibition of Contemporary Art offers to all visitors for the first time this year the chance to explore the Biennale with the ALLSENSE-APP which has been developed with the support of Aktion Mensch. A digital tour of 27 art works, available from the App Store and from Goggle Play, enables the blind and the sighted to experience these works, indeed all who want to sharpen their perception of arts beyond the visual. A free mobile Guide is also available from the ticket office.
From 21.09 OSTRALE will hold at 16:00 tour for sighted and visually impaired. Explore the works and the area of the 11th OSTRALE International Exhibition of Contemporary Art together, shared your senses and widen your perspective. With the ALLSENSE-APP (available from the App Store and from Google Play) we bring 27 art works nearer and enable a new insight into art.



01.09./ 08.09./ 15.09./ 22.09./ 29.09. at 18:00
DEREVO Dance Piece - Language of the Body
Especially appropriate for the deaf and mute
A) 01.09 18:00
DEREVO presents their piece 'Try walking in my shoes' at Gate 7 of OSTRALE 017. A dance piece for all the senses which gets the synapses firing. In addition, Elena (DEREVO) dances an improvisation everyday in the OSTRALE area.
B) 08.09 18:00
DEREVO presents their piece 'Try walking in my shoes' at Gate 7 of OSTRALE 017. The senses become sharpened through the language of the body.
Elena (DEREVO) dances an improvisation everyday in the OSTRALE area.
C) 15.09 18:00
DEREVO presents their piece 'Try walking in my shoes' at Gate 7 of OSTRALE 017. With the language of the body and of dance all the senses will awake
and the synapses will be tickled. There are also daily improvisations for visitors by Elena (DEREVO) in the OSTRALE area.
D) 22.09 18:00
DEREVO presents their piece 'Try walking in my shoes' at Gate 7 of OSTRALE 017. With this performance DEREVO leads the visitor into another world.
In addition, Elena (DEREVO) dances improvisations everyday in the OSTRALE area.
E) 29.09 18:00
Discover the language of the body every Friday at 18:00 at Gate 7 of OSTRALE 017 with
DEREVO. With this performance, 'Try walking in my shoes', this groups enables the visitor to form a new perspective. On the other days of the exhibition, Elena (DEREVO) dances an improvisation of the Biennale.
Opening on Juli 28th 2017

Impressions of the Opening of the "OSTRALE-Biennale for Contemporary Art", Dresden.
Photography: (c) Peter Fischer
"OSTRALE - Biennale for contemporary Art"
11th International Exhibition Dresden / 28.07. - 01.10.2017

OSTRALE – Biennale is the third largest exhibition for contemporary art in Germany. It is not a sales exhibition per se, which gives us the freedom to discuss socially relevant issues apart from the market development. OSTRALE's guiding principles, such as peaceful coexistence, acceptance of the stranger / unknown, respect for each other, religious diversity and internationality, are reflected in the exhibitions.

By definition a re_form is a systematic and non-violent change of existing conditions without ignoring the essential intellectual and cultural foundations. The aim of a reform is improvement. Contemporary Art can ask questions and generate solution approaches in a nessecary re_form-process. The guiding theme "re_form" deals especially with the question of organised change of existing cultural policy and cultural systems in Europe, Germany and particularly in our town, that is preparing to apply as "European Capital of Culture 2025".

Further Information and exhibiting Artists

Opening Programme, 28th of July 2017
6 pm, Dresden Fair
soundlab inside artistgroup SARDH mit BALOG JOEL SCHWEIGER WORMSINE VOXUS IMP (DEU)
hillumination und Performanceshow mit Said Dokins und Leonardo Luna (MEX)

Opening Speaches, 6.15 pm, Dresden Fair
Ministerialdirigent Thomas Früh, Sächsisches Ministerium für Wissenschaft und Kunst
Alexander Nym, Diplomatischer Dienst NSK-Staat // Geschäftsführer Kultur Aktiv e.V. Dresden
Anna Fedorczuk, Prezes Zarządu // Vorsitzende von Czapska Art Fundacija // Posen (POL)
Patrick J. Fenech, Vorstand von Fondazzjoni Kreattuvità // St. James Cavalier in Valletta (MLT) // Kooperation ECoC 2018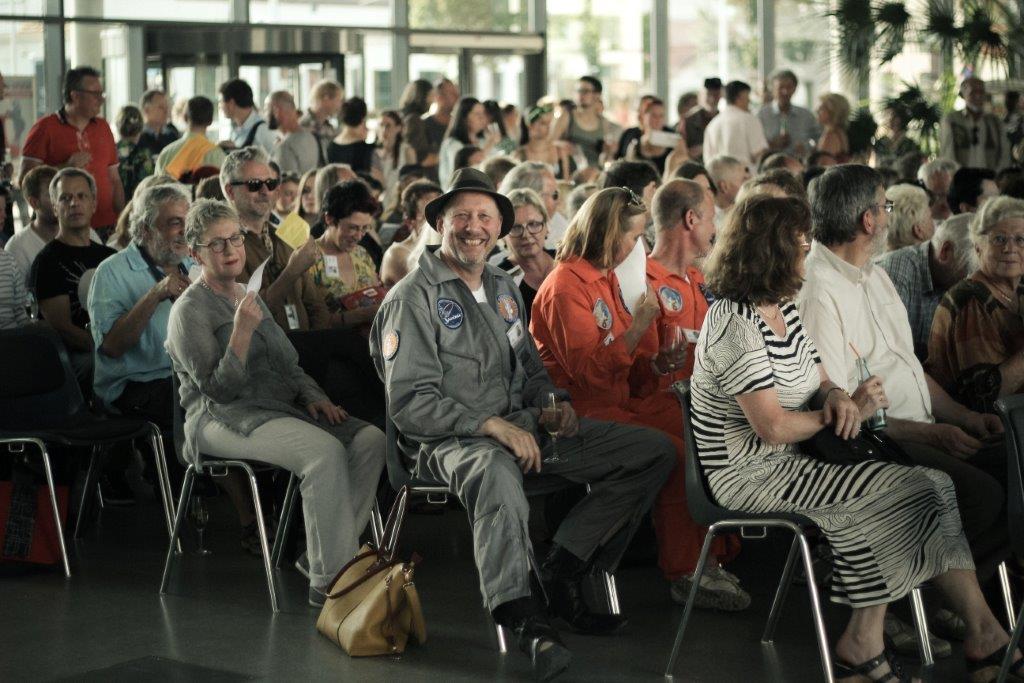 from 6.45 pm, Dresden Fair
Kay Kaul (DEU)
...and there is also something next to Zwinger and Frauenkirche - the internationally widely acclaimed and for more than ten years takes place every summer in Dresden exhibition for contemporary art. Kay Kaul has accompanied OSTRALE for a year, illustrating in his film an exhibition cycle of planning and construction, from opening to ending.

7.15 pm, Gate 6
Committee for Unsolicited Business (Luk Sponselee und Werner Klompen / NLD)
Kollision-X – 25'00"
Part 1: Mega Stylo Ensemble
Part 2: Choreography for Pappe Camper
Part 3: All Sweets Comes from the Inside
From outside within squat is the first thing shows itself. A strange cartoon like appearance that ground to a halt. Clear that there is a situation where an action has been in advance so that this image was reality. The vehicle as if it is sent by post has a smile and has found his place. To view his peeking in world in the different than the space itself is allowed.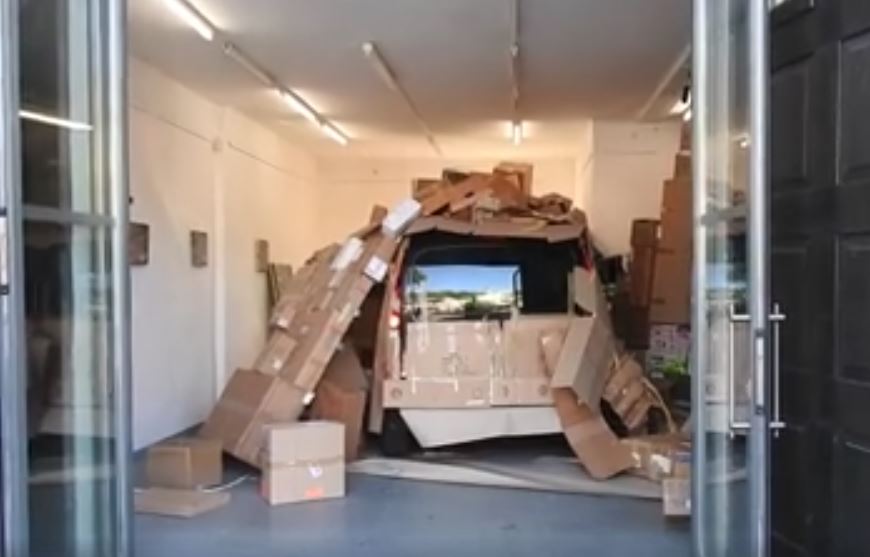 7.15 - 10 pm, outdoor area
Giovanni Gaggia (ITA)
Miratus Sum
Matters of identity, ritual, self-denial, and sharing are cornerstones to performances that are always intended as an interaction with another human being. In them, the identities coming into play suffer mutual contamination and call to mind shamanic rites and rituals of initiation through which the deeper corners of human spirit transform.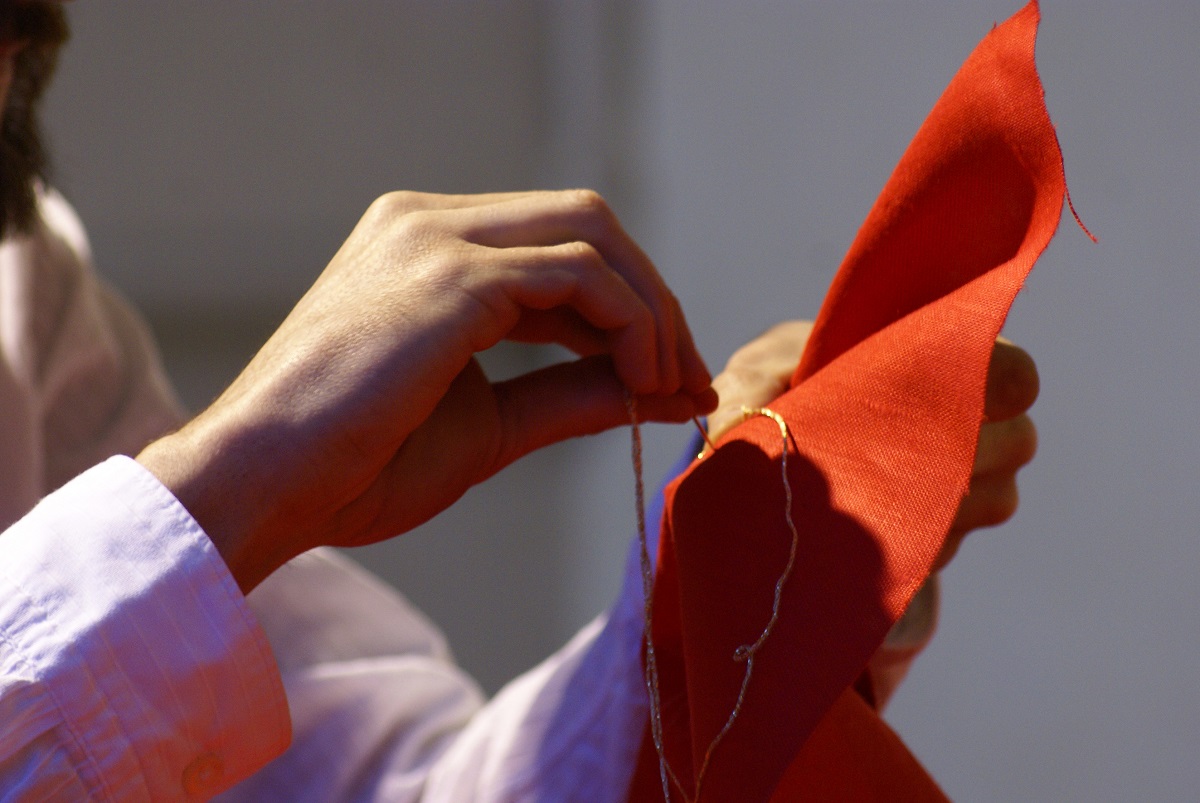 7.40 - 10 pm, Gate 7 / continuing Performance every Friday, 6 pm
DEREVO (DEU, RUS) von Elena Yarovaya
Try walking in my shoes – dance performance, 25'00"
"Before condemning someone, take his shoes and walk his way, try his tears, feel his pain. Stumble upon every stone that he stumbled upon. And only then you can say that you know how to live properly." – The Dalai Lama

8 - 9 pm, Gate 5 / additional special dates
Klasse Deggeller, Hochschule für Bildende Künste Dresden (DEU)
The title 'OUTSIDE THE FRAME' is programmatic. Philosophically speaking, it means everything that is not visible outside the picture's contents; artistically, it means that which remains transparent underneath the surface.
The artistic creators from the video work: Hannah Ernste, Romy Rexheuser, Sebastian Schrader (students from the HfBK Dresden)
Artistic directors: David Campesino and Prof. Marc Deggeller (Professors from the HfBK Dresden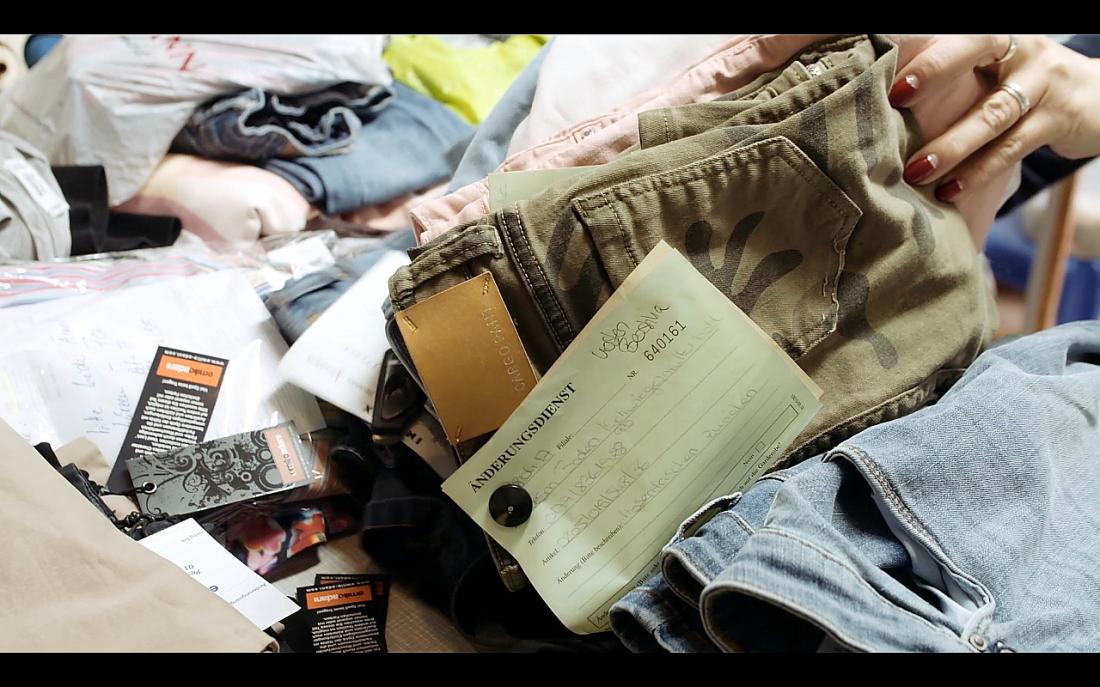 21 - 22 Uhr, Tor 18
Volodymyr Topiy (UKR)
Luft, air, воздух, повітря...
Performance show about air and time.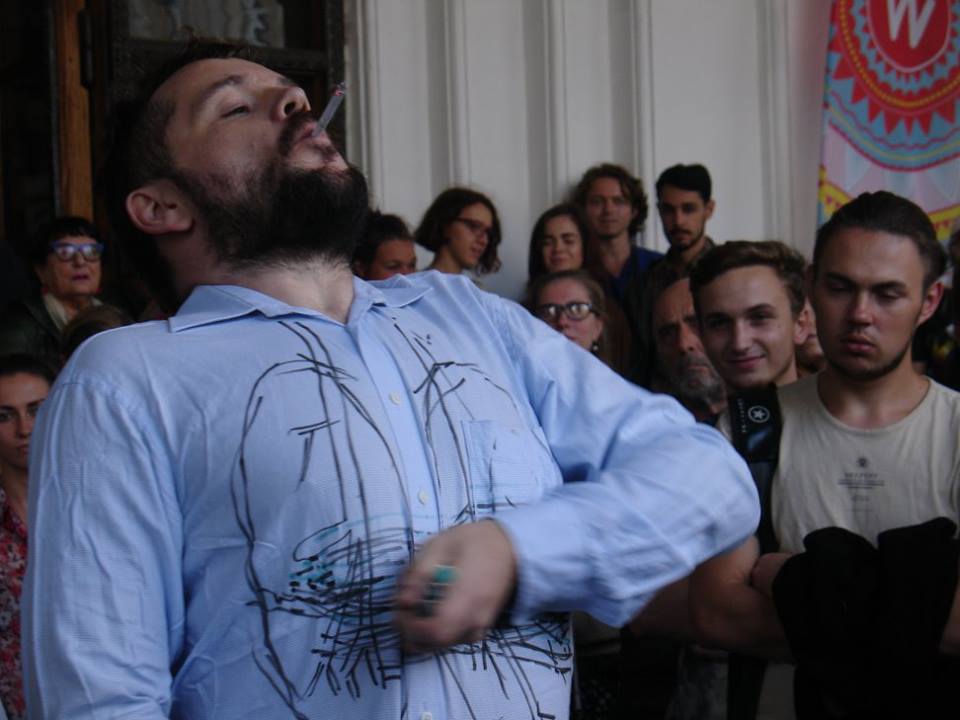 10-11 pm, exhibition area
Wiola Ujazdowska (POL)
Luxury problems
Mourning is a luxury. In ancient times there were a professional mouners - women that were hired to cry. In this work the artist became a mouner to weep after a death of her mother. Over-Expresing trauma to make it a performance Act. The Body Of A Mouner Is Set Together With Geometric Forms That Symbolize The Inorganic.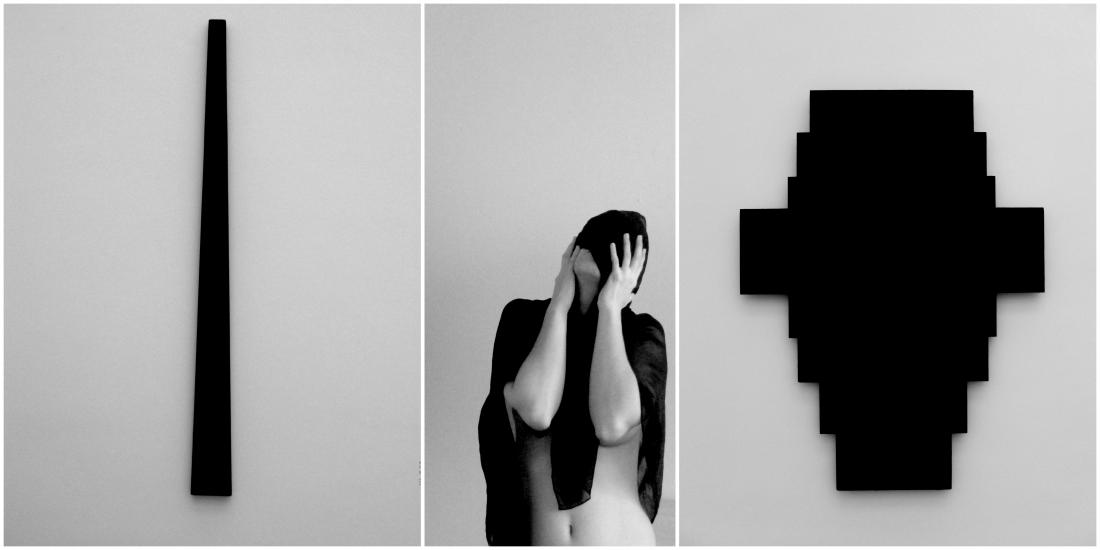 Continuing Performance, outdoor area
Serge Feeleenger (BLR)
Way of 10 brushes – Live-Painting
"When I discovered the technique of ten brushes, I could not to think how much more it means than I imagined. The Technique of Ten Brushes is not just another way to paint. It's a way to reconsider the art of painting."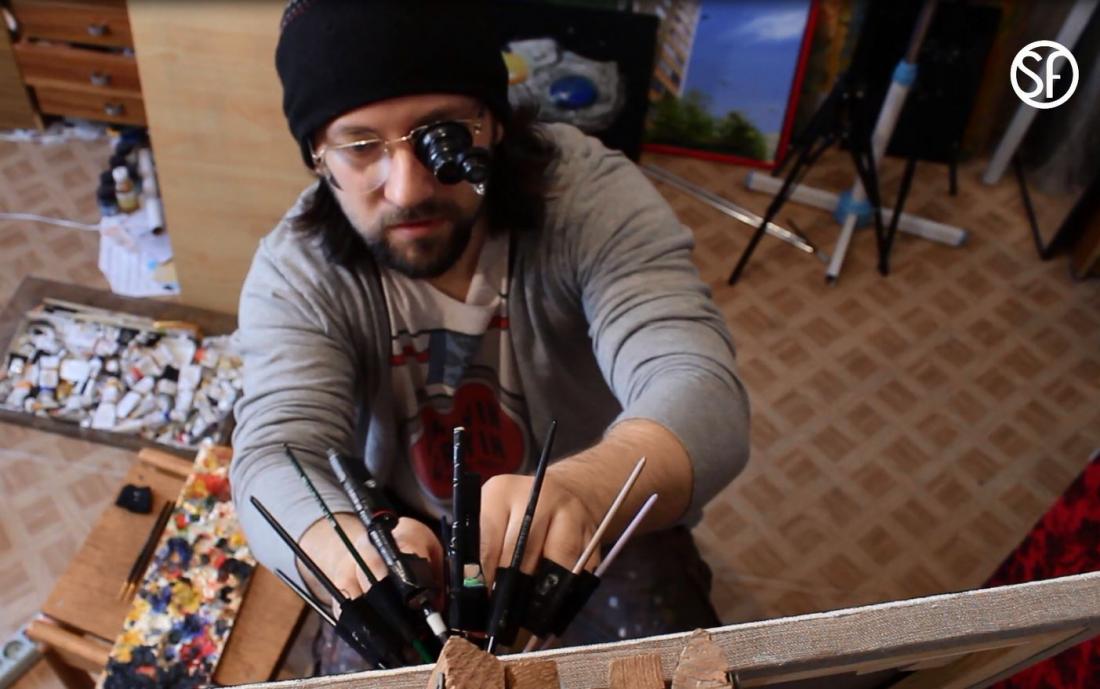 OSTRALE-AudioGuide "AllSense" for visually impaired people
Sponsored by "Aktion Mensch" // Erstmals vermittelt die OSTRALE Blinden und Sehbehinderten den Zugang zur Kunst auch mittels einer eigens programmierten, kostenlosen App. AllSense-Flyer (pdf)
"Die App "AllSense" ist ein Audio-Guide. Dadurch ist es möglich einen Querschnitt von 25 ausgewählten Arbeiten er Ausstellung zu repräsentieren und mittels Autodeskriptionen vorzustellen. Kunstwerke und andere Orte auf dem Ausstellungsgelände, wie Gastronomie, Toiletten etc., werden von uns mit sogenannten Bluetooth-Beacons ausgerüstet. Nähert sich der Nutzer der App diesen Punkten,wird die Audiodeskription angesagt.", beschreibt der selbst blinde Dr. Jan Blüher, der die App mit seiner Firma visorApps im Auftrag der OSTRALE programmiert hat.

Zusätzlich zur App wird ein visuelles und taktiles Leitsystem Sehbehinderten und Blinden Orientierung geben. Die App gibt es sowohl für iOS als auch für Android-Geräte, sie ist im Play Store, App Store sowie mit vor Ort ausleihbaren Geräten zugänglich.



Video Art at the "LOOP Festival Barcelona"
OSTRALE-Art at the LOOP Festival www.loop-barcelona.com, Barcelona 18 – 27 May 2017. The selection of international artists for the "Visions, Visionats and Visionaris" program, shown at the Loop Festival, was curated by Agustí Fructuoso (TPK) and OSTRALE Director Andrea Hilger.

Screenings and video installations by Anne Müller (Germany / OSTRALE), Jose Mart, DROPP Collective (Alexandre Astier, Matthieu Capellier, Gregoire Fabvre, Vincent Rubin), Alberto Lozano (Catalonia) and Marcus Sharar (Israel / OSTRALE).
Venue place: TPK Art i Pensament Contemporani, www.tpkonline.com, http://loop-barcelona.com/venue/tpk-art-i-pensament-contemporani/, Av Josep Tarradellas 44, 08901, L'Hospitalet (Barcelona)
A project by: DROPP Collective & OSTRALE
"Valletta International Visual Arts (VIVA) Festival"
From May until July 2018 OSTRALE for contemporary arts is guest in the European Capital Culture, in St. James Cavalier, in the German Maltese Circle and in the Valletta Contemporary, Malta. In April 2017 we have been already in Valletta realize an exhibition in the context of the "Valletta International Visual Arts (VIVA) Festival".
MEDIATRIXISM / "Valletta International Visual Arts (VIVA) Festival"
Exhibition at the"German-Maltese Circle", Valletta, Malta / www.viva.org.mt
Artists: Anne Müller, Martin Müller / Curator: Andrea Hilger / 15.4. – 15.5. 2017
"Fondazzjoni Kreattività", "St James Cavalier", "Goethe Institute", "META Foundation"