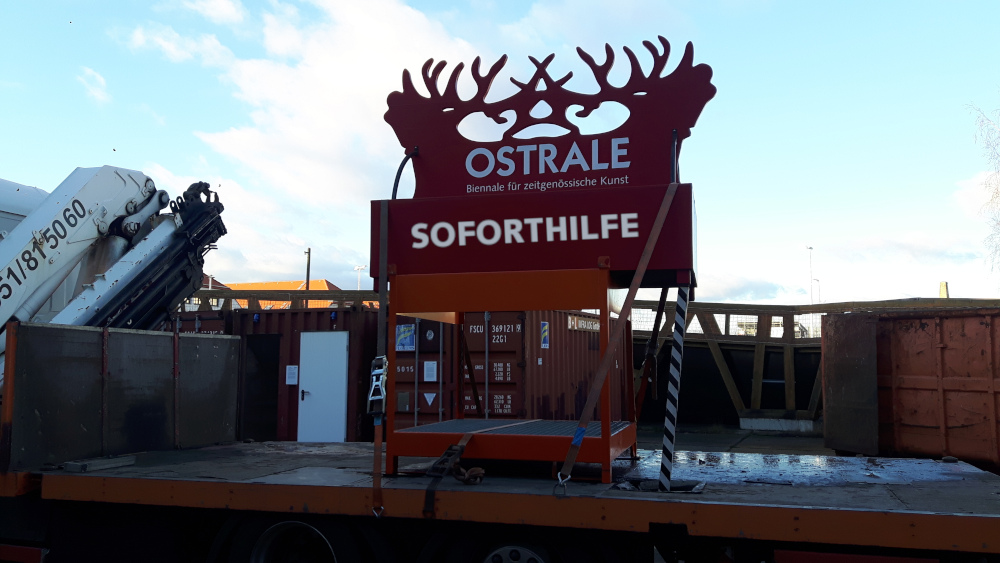 Dear friends and sponsors of the OSTRALE Biennale,
the OSTRALE - Centre for Contemporary Art, organizer of the OSTRALE Biennale, urgently needs your help. The Center and the Biennial is in need of financial support that is both direct and immediate. A sufficient number of smaller contributions could help OSTRALE to get through this difficult time into the next year with all its planned events – but bigger donations are also gladly welcome.
OSTRALE is strongly affected by the current Corona crisis: valuable sponsors have had to withdraw their support for the time being, from us as well as from all their other engagements. Long prepared foreign projects, like in the European Capital of Culture Rijeka and in Kenya, had to be cancelled or postponed. Crisis aid measures, such as Corona loans or grants, do not reach us, or only to a very limited extent, similarly to other art institutions. 
In addition, our move to Dresden-Übigau, made necessary by the loss of our previous premises at the Erlwein'sche Futterställen in the Ostragehege, is placing additional burdens on us.
We are about to publish a call for support on the crowdfunding platform Startnext.com as well. However, this will take a while – we will let you know in due time. Until then, please help us today, quickly, personally and directly, so that we can continue with our work. Thank you very much.
OSTRALE – Zentrum für zeitgenössische Kunst

Ostsächsische Sparkasse Dresden
I
BAN: DE88 8505 0300 3200 0480 17

BIC: OSDDDE81XXX
Subject: "Soforthilfe"
To issue a donation receipt (Spendenquittung), please send us an e-mail with your address to buchhaltung(a)ostrale.de or call our colleague at +49 (0) 351 6537707.
Besides: apart from a quick personal financial contribution, you can also help us by sharing your opinion in our favour in the discourse on the Cultural Development Plan of the City of Dresden, as we would like contemporary art to have more prominence in the future cultural plans of the city with the OSTRALE Biennale. On the platform set up by the city you can get involved and help us to promote this cause.
As an international network hub for contemporary visual arts in the European cultural city of Dresden, we have been bringing important impulses to Dresden and Saxony since 2007. We have also continued to integrate artists from Dresden and Saxony into the international discourse of contemporary art with numerous projects abroad, especially on behalf of European Capitals of Culture. Our presence in Pécs (Hungary, 2010), Wrocław (Poland, 2016), Valletta (Malta, 2018) and Rijeka (2020, CANCELLED) provide good examples of this. We are also already involved in a similar collaboration with the city of Kaunas in Lithuania (European Capital of Culture 2022). Encounters with contemporary art at the OSTRALE exhibitions is always integrated into the art lessons of numerous schools in Saxony - with the participation of around 440 classes or around 8,700 pupils. All this can only be preserved with your help.
Thank you very much. We higly appreciate your support and hope to be able to invite you, as our immediate supporter, exclusively to a party in our new headquarters later this summer. Therefore, please also inform us of your donation by e-mail.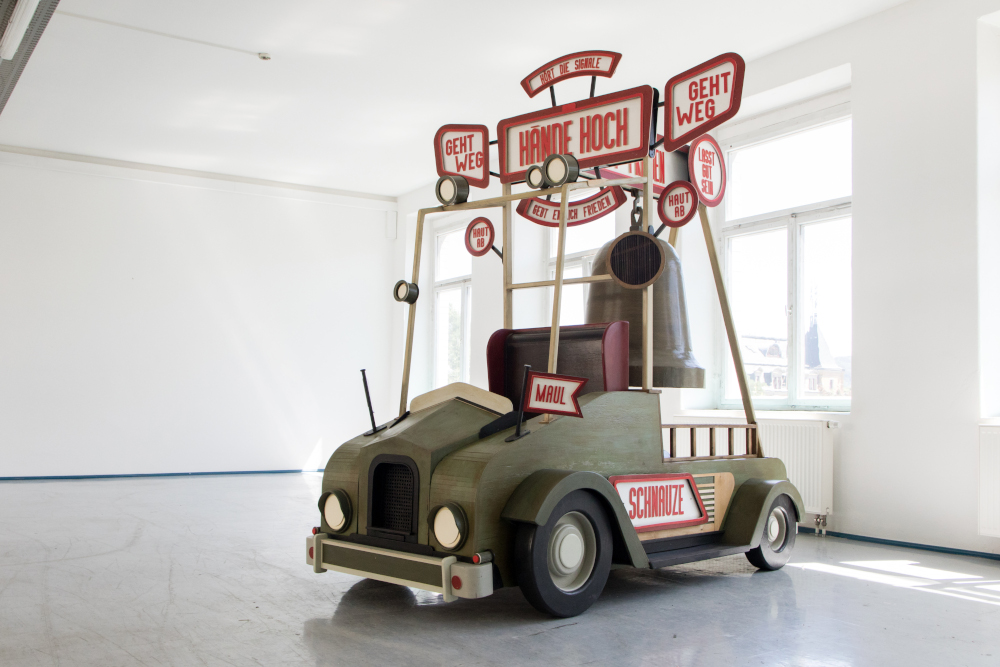 (Artwork: Thorsten Passfeld – Beschwerdemobil, OSTRALE Biennale O19 / Photo Peter © R. Fischer.)