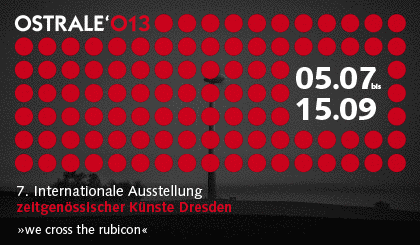 we cross the rubicon
5.7.-15.9.2013
63 days
86 artists
15 nationalities
15,000 m² exhibition space indoors
50,000 m² exhibition space outdoors
18,000 visitors
SEE CATALOGUE (pdf)
"Who crosses the rubicon" has made a decision; one sees the way and the finish line clearly and lets nobody get in one's way. To use the power of art for the development of society, this is our objective. Therefore, we checked our positions critically and set out towards new shores.
The prologue of 2013 applies to ourselves: we should consider ourselves as well as become aware of the perception from the outside. How is art able to create a dialogue with politics and science, the individual and society? Which new perspectives is this dialogue able to open?
It is about making fractures and limits visible no matter if of typographical, physical, linguistic or mental nature. How much power possesses art and which resources is it using when it comes to overcome and dissolve borders.
Exhibition venues: the Western and Eastern feeding stalls, the donkey shed, the outlands and House 11 in the historical Erlwein slaughterhouse of Dresden, Messe Dresden, Hotel Maritim, Pumpenhaus, OBERÜBER KARGER
Jurors: Andrea Hilger (artistic director), Moritz Stange (artistic director), Patrick-Daniel Baer (gallery owner, Dresden), Knut Hartwich (gallery owner, Sellin/Rügen), Friedrich Loock (gallery owner, Berlin), Jens Zander (architect, collector and artistic patron, Dresden), Chloé Coomans (Visual artist and award recipient of OSTRALE O 12, Belgium)
Curators: Knut Hartwich (gallery owner, Sellin/Rügen), Friedrich Loock (gallery owner, Berlin), Moritz Stange (artistic director)
2. cool silicon art award organized for Cool Silicon e.V. at the Messe Dresden