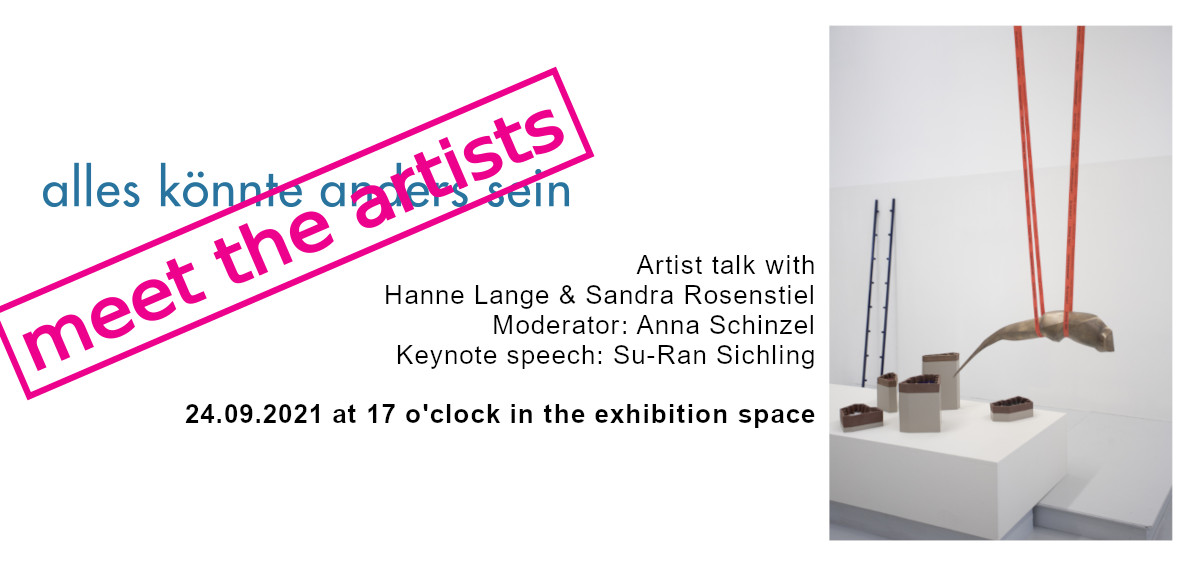 alles könnte anders sein
an exhibition from 17.07.2021 until 17.10.2021
by Hanne Lange and Sandra Rosenstiel
Place: OSTRALE.Basis | Rethelstraße 45 | 01139 Dresden
Opening hours: Tuesdays to Saturdays, 12-18h | Free entry
- meet the artists –
Artist talk with Hanne Lange & Sandra Rosenstiel
Moderator: Anna Schinzel | Keynote speech by Su-Ran Sichling
24.09.2021 at 17h in the exhibition space
"Everything could be different" is the title of the exhibition that opened on 17.07.2021 in the new OSTRALE.Basis in the former culture house of Dresden-Übigau. The artworks of Hanne Lange and Sandra Rosenstiel are on display until 17.10.2021. At the opening, art historian Franziska Novel Camino gave an introductory lecture.
The title of the exhibition is not only a thought that has crossed the minds of many, it also brings us back into the space where we, as viewers, not only see the finished works and thus the decisions of the artists, but can also examine our own ideas and perceptions. The objects make us stumble and interrupt our habitual ways of seeing. The artworks offer us the freedom to unfold our own thoughts and invite us to investigate further.
On Sept. 24, 2021 at 5 p.m., Hanne Lange and Sandra Rosenstiel will be on site to talk with Anna Schinzel about the exhibition, the artworks and working as sculptors. At the beginning of the discussion round, the artist Su-Ran Sichling will give an keynote speech. The audience is cordially invited to join in the conversation.
During the opening hours, the art containers of the Artist in Residence program of the Flowing Connections cultural cooperation project can also be seen in the garden of the OSTRALE.Basis, with works from artists from Lichuania, Hungary, Czechia, Transnistria and Germany. The containers are part of the OSTRALE Biennale O21 exhibition in Dresden and will travel next year to Budapest (Hungary), Split (Croatia) and Kaunas (Lithuania), the European Capital of Culture in 2022.