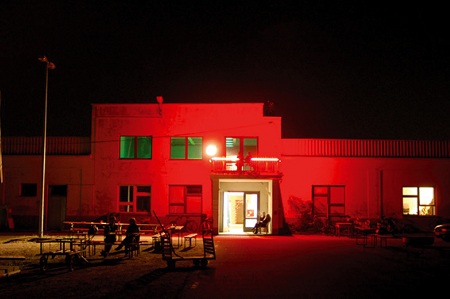 Signale
duration: 3 days
9,000 m² exhibition space
120 artists and artist groups
15 nationalities
3,500 visitors
A new artists' platform for contemporary art in Dresden: for the first time, OSTRALE 2007 invites visitors to an art exhibition in the historic Erlweinbauten complex of the Ostragehege, reachable directly from the western side of the city centre.
More than one hundred predominantly young artists now have a forum in Dresden as well as a place of outstanding natural beauty and urban architecture, to present their current positions and a broad spectrum of works, installations, actions, performances, aesthetic strategies, discursive interventions, and also discussion panels and people who make it all possible for them.
The primary message of the fifteen initiators and organisers has two main objectives. There should be a nationwide attention drawn to Dresden as an interface of artistic exchange processes, disputes and transfer movements between East and West, whose potential is still underestimated. Through this actively changing difference, not only a so-called catching-up alignment of the periphery is articulated in relation to art, but also the future differentiation and establishment of a cultural space of its own that has no model in history. From here, Dresden also wants to change, and reach a different understanding of itself. OSTRALE sees itself as a pioneer of an open network for artists and cultural workers, and as a motor for the reintegration of the buildings on the former slaughterhouse site into the urban cultural fabric.
In consequence, the first edition of OSTRALE is linked to the concept of sending a signal to the future: the planned subsequent exhibitions will be even more open to artists from Eastern Europe and non-EU countries. Historical processes and public thinking are to be questioned and presented through the medium of art: this is the main task and objective of the project, the implementation of which must be ensured for the future – naturally with the participation of locals and the curious visitors from elsewhere as well.
Exhibition venues: the cattle shed, the social wing, the pigsty and the pig dome in the historical Erlwein slaughterhouse of Dresden
Curators: Mike Salomon, Andrea Hilger