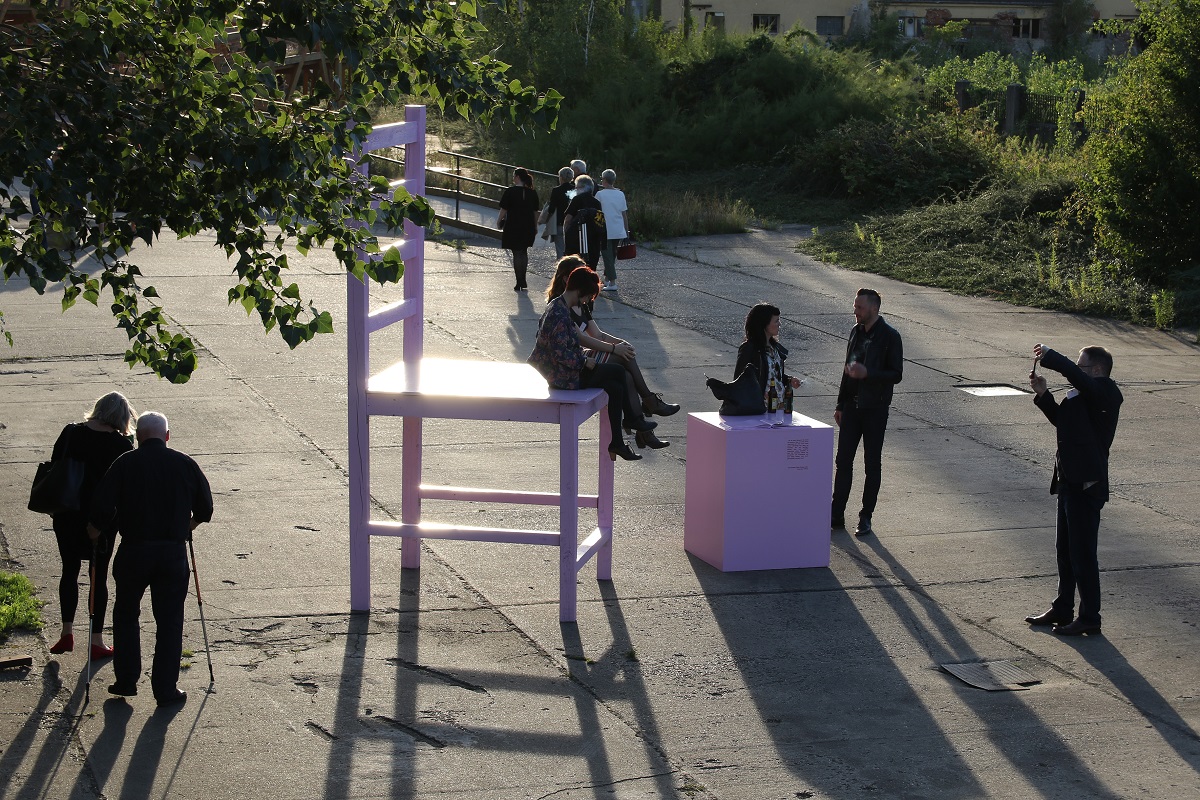 OSTRALE guide "AllSense" for blind and visually impaired people and sign language speakers
The OSTRALE provides blind, visually impaired and sign language speakers with access to art through a free, specially programmed application.
"The AllSense app functions as an exhibition guide. It enables us to present a 27-piece selection of artworks from the exhibition, using audiodescriptions and sign language videos. We equip the selected works of art and other places on the exhibition presmises – such as restaurants, toilets, etc. –, with so-called Bluetooth beacons. If the user of the app approaches these points, the description can be heard", explains Dr. Jan Blüher, who is blind himself and programmed the application with his company visorApps for OSTRALE.
In addition to the app, a visual and tactile guidance system also provides orientation for sighted visitors. The app is available for both iOS and Android devices and can be accessed in the Play Store, App Store and on site on devices that can be borrowed.
This cooperation within the framework of the "AllSenseApp", sponsored by Aktion Mensch, is aimed at all visitors, helping fellow human beings who use other senses than usual to orient themselves. When developing the guidance systems, we had the opportunity to work with two blind IT professionals, many helpers and sign language experts, who opened our eyes and let us experience new ways of perception. We would like to pass this on to our visitors. Through them, art can be made equally accessible to everyone, different perspectives on creative spaces / works of art can be conveyed and, above all, perception can be touched, felt, heard and felt anew.
The special offers and activities (workshops, symposia, festival/finissage, etc.) are designed for up to 200 participants during the project period. The AllSense application is available to all visitors to the exhibition. The AllSense guides can be used by 20 people at the same time.
Funded by

Databank / AllSense connection: Sven Dämmig
ALLSENSE APP: Jan Blüher (visorApps development), Eric Scheibler (visorApps development), Jens Horn (beacons), Torsten Becker (graphics)
Sign language: vigevo Das Netzwerk für Gebärdensprachdienstleistungen, Monika Möhrer (sign language interpreter)
Controlling: Paul Michel
Click on your preferred platform's icon to download the application free of charge!
(Please note that in our current edition, the audiodescriptions are only available in German,
and the sign language videos use German Sign Language.)