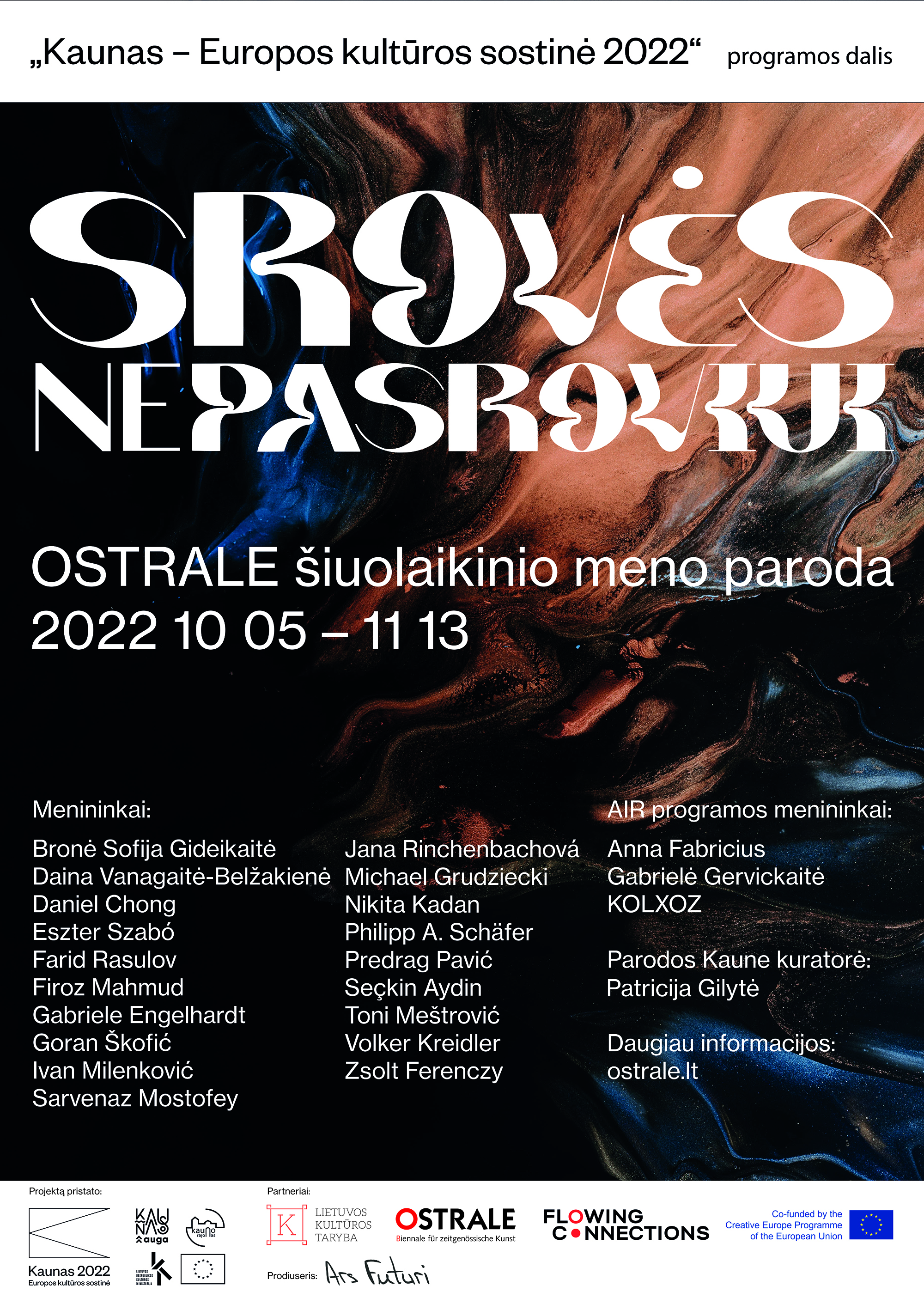 Streams upstream | OSTRALE contemporary art exhibition
05.10.2022 – 13.11.2022 Kaunas Central Post Office
FURTHER INFO UNDER http://ostrale.lt
The OSTRALE Biennale in Dresden is one of the largest contemporary art exhibitions in Germany, with 138 artists representing 34 nations (including Lithuania) in 2021. Artists from all over the world, including members of the international curatorial jury from partner institutions in Croatia, Lithuania and Hungary, submitted the works to the Biennale in an open competition.
The organisers of the Biennale aim to present the interdisciplinary content of their exhibitions not only in Germany, but also in various parts of Europe, and therefore organise travelling exhibitions. In cooperation with the European Capitals of Culture, in 2022 artworks from the OSTRALE Biennale are presented in Lithuania.
The OSTRALE Centre for Contemporary Art organises exhibitions in non-traditional spaces, initially designed for purposes other than art. The transformation of these spaces gives an opportunity for new contexts. The history of the building and its past influences the experience of the visitors and creates associations and references that complement the artworks. In 2021, the OSTRALE Biennale O21 BREATHTURN was held in the robotron-Kantine, the former canteen building of an East German electronics company in Dresden. A selection of works from this exhibition is now being displayed in Kaunas Central Post Office.
"Streams upstream" is the final OUT of OSTRALE event, completing the series of European cultural cooperation project "Flowing connections".
The themes of constant movement, migration of animals and humans, their encounter with challenges and each other are interpreted by the exhibition artists. Each artist's perspective depends on the political and economic reality one comes from. This is an exhibition about globality and all the nowness, unfulfillments and subtexts of this multi-layered phenomenon.
Packages, letters or postcards that once found their way from senders to recipients in the mail distribution rooms and followed their own trajectories, sometimes reached their addressees and sometimes disappeared. The viewer can search for a message that is meant only for them, a message secretly transmitted by a stranger, encoded in the language of art, and at the same time feel how the walls of the Kaunas Central Post Office are covered with the passage of time, and open for a BREATHTURN.