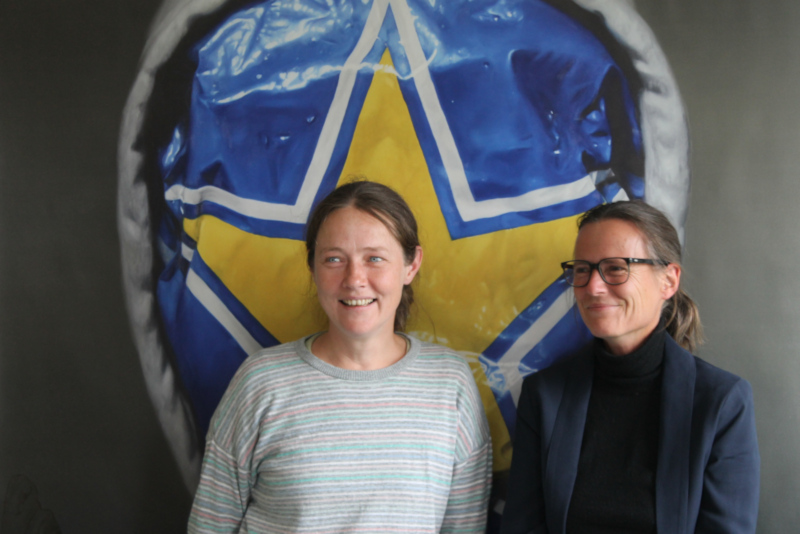 Andrea Hilger (Dresden), 1st representative and artistic director of OSTRALE
(to the right on the photo)
Born in 1970 in Leipzig, artist, organizer, founder and director of the OSTRALE – Center for Contemporary Arts 2007, founder of TANZart Dresden 1997 and HILLUMINATION – Light + Stage Design 2001, board member of Tanzbühne Dresden e.V. since 1999, dancer of several German opera houses, among them the Semperoper Dresden up to this day, stage and costume designer at numerous theaters in all Germany, like the Kiel Opera, Staatstheater Cottbus, Landestheater Cogurg, etc. 2009 recipient of the Förderpreis of the City of Dresden. Restructuring the OSTRALE into OSTRALE – Biennale International Exhibition of Contemporary Arts in Saxony, member of the Orga-Team of the Konferenz der Konkurrenten (Conference of Competitors) in preparation for the European Capital of Culture 2025.
Antka Hofmann (Dresden), 2nd representative and co-director of OSTRALE
(to the left on the photo)
Born in 1977 in Großenhain. Artist, cultural manager, lives and works in Dresden and Heiligendamm. She studied painting and graphics at the Dresden Academy of Fine Arts (Hochschule für Bildende Künste, 1996-2002), and did her Masters degree there as well (2002-2005). After a research- and teaching fellowship (2002-2003), she was a member of the Produzentengalerie Komet Berlin (formerly Rakete Berlin, 2007-2009). She is also co-founder of the OSTRALE 2007, board member and since 2013 deputy head of the exhibition construction team. As an artist, she has had solo exhibitions in Berlin, Leipzig and Dresden, as well as various group exhibitions in Germany, Poland, Russia, Belgium, Spain and Malta. She is part of the curatorial and jury team of the OSTRALE Biennale.