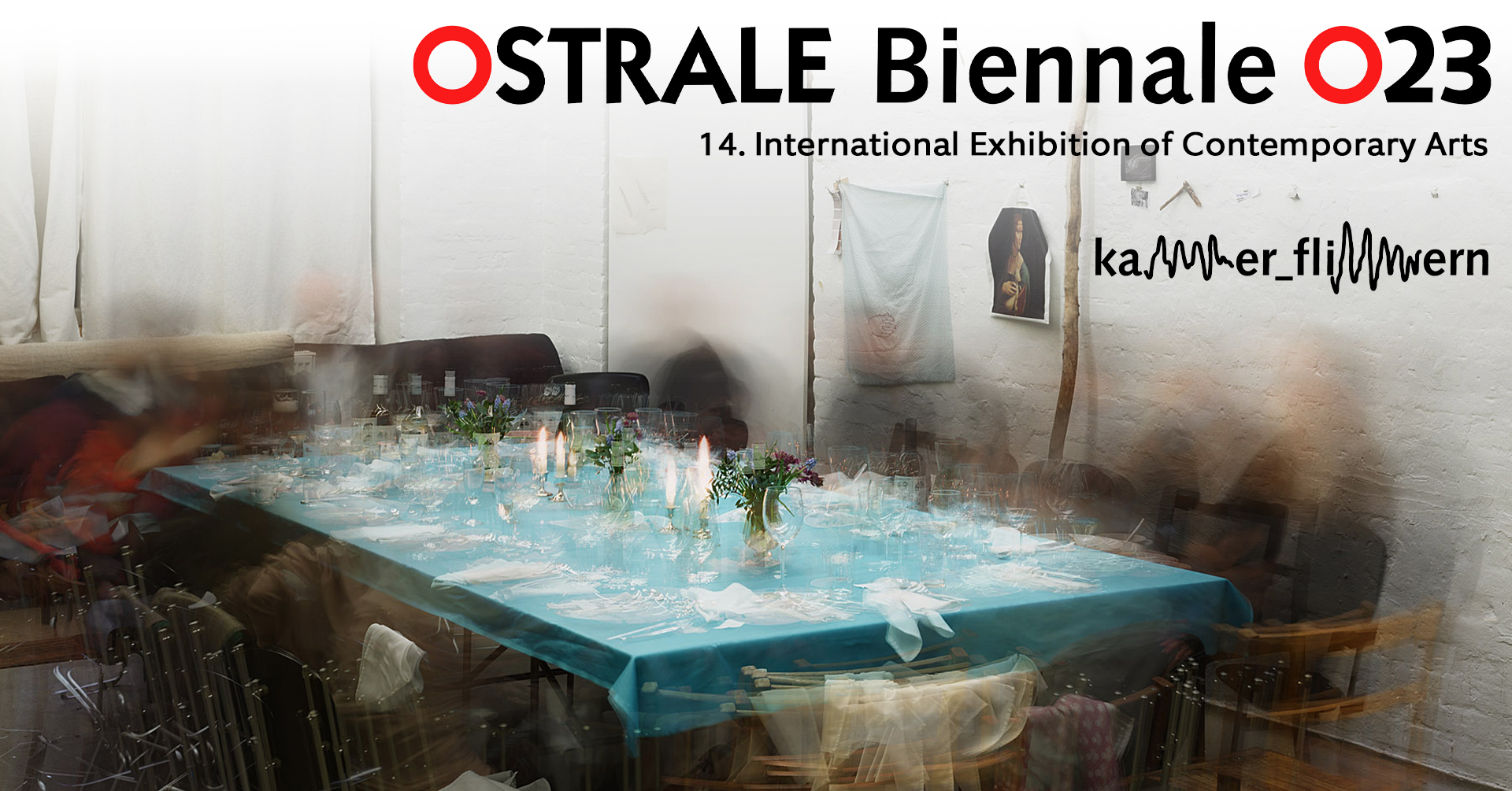 OSTRALE Biennale O23
10. June – 01. October 2023 | Dresden (Germany)
For the 14th time the OSTRALE – Centre for Contemporary Art organizes its international exhibition of contemporary arts in Dresden, in 2023 from June 10th to October 1st, at the unique robotron-Kantine building in the heart of Dresden.

The 15th anniversary of OSTRALE has been overshadowed by the 13th OSTRALE Biennale in 2021 and our EU project Flowing Connections, which led to great partnerships across Hungary, Lithuania and Croatia (see O21 / OUT of OSTRALE). For this year's exhibition, the curators have looked back on the past 15 years with more than 2500 artists. They have compared, analyzed, proudly but also critically considered their paths, and now, together with the applicants from the open call, made a considerable selection of artists and their artworks.
In a review of the previous years since the founding of OSTRALE in 2007, with numerous exhibitions in Dresden and abroad, the curators Andrea Hilger, Antka Hofmann (artists) and Lisa Uhlig (art historian) have positioned the artworks on the subject of kammer_flimmern on 3000 sqm.

Never before has our society been as divided as it is today, while the need for community and solidarity is greater than ever as well. We are faced with acute and daunting questions, problems and challenges, such as global social inequality, protecting our planet, an ongoing pandemic and the resistance against aggressors. Trying to obtain objective and reliable information on these issues sometimes feels like the fight of David against Goliath. Media competence is an increasingly important tool of our time. Critical distance is indispensable in order to be able to unmask hatemongering, propaganda and misinformation and stand up against them.

But what happens to us as humans, our physical and mental health in these overwhelming times, where we often feel helpless? Our social capital – trust, cohesion, mutual support and the ability to compromise – seems to have taken a hit. In this sense, we should all be social capitalists and propagate growth.

Perhaps there is also an opportunity hidden in the tensions, because when structures are exposed, their building blocks become visible piece by piece. Remember the concept of the primordial hut – four tree trunks and a few branches for the roof. This archaic image remains a symbol for the return to the core of things. It asks for principles.

Human beings always move in a sphere between reality and illusion – as does art. What perceptions are reflected in the creative unrest of today's contemporary art? What possibilities for a future-proof community are being discussed? Do the building blocks we may discover show us what divides or what unites us? Artworks as individual traces expand the spectrum of knowledge we gain through experience. They can help us understand better. Creativity as a resource grows with intensive use instead of dwindling – which can only be an added value.




> Ticket info / opening hours / address


Flyer for download:
> Flyer OSTRALE Biennale O23 / Stephanie Abben / de
> Flyer OSTRALE Biennale O23 / Michael Wesely / en
> Flyer OSTRALE Biennale O23 / Elvio Chiricozzi / en
> Flyer OSTRALE Biennale O23 / Philipp Valenta / de