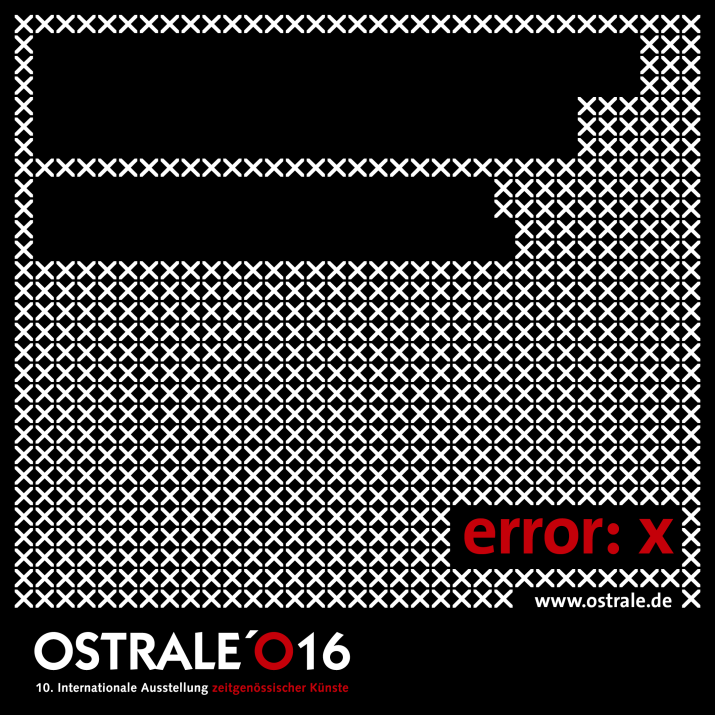 error: X
10. Internationale Ausstellung zeitgenössischer Künste in Dresden

1.7. bis 25.9.2016
Eine künstlerische Präsentation über Ländergrenzen und Gedankengrenzen hinweg, verstehen wir als Forschungsarbeit. Künstler und Kuratoren fördern den Diskurs über die Gegenwart mit den Mitteln der zeitgenössischen Kunst.

Gegenwärtige Spannungen zwischen islamischen Ländern, Europa und Nordamerika, der Kampf um Weltherrschaft, die eine Migration von Menschen zur Folge haben und dadurch die Überprüfung der Werte und Einstellungen unserer Gegenwart auslösen. Industrialisierung, Kommunikation, Digitalisierung, Umweltverschmutzung, klimatische Veränderungen erreichen eine globale Dimension.

Seit der Künstler Peter Puype schrieb: "Democracy for the West, Violence for the rest"/"Demokratie für den Westen, Gewalt für den Rest", fragen wir nach Alternativen der Art und Weise unseres Daseins, aber solange wir funktionieren in unseren Systemen, vergessen wir die Konsequenzen unseres Konsums und unserer heutigen Werte. Wir alle wissen, dass diesem System ein Fehler vorliegt – error:x.
Es geht um eine aktive Auseinandersetzung mit unseren und anderen Kulturen, um kooperative Zusammenarbeit zwischen Künstlern, Kuratoren, Bürgern, Asylsuchenden und Referenten aus aller Welt. "Reconstructions of the Memory / Die Rekonstruktion der Erinnerung" untersucht, inwiefern Erinnerung unsere Wahrnehmung der Gegenwart und aktuelle gesellschaftliche Entwicklungen, wie Zuwanderung und Flüchtlingsproblematik, bestimmt.
Die OSTRALE´O16 "error:x" (10. Internationale Ausstellung zeitgenössischer Künste in Dresden) steht in Kooperation mit der 5. Mediations Biennale Poznań "Fundamental" (01.10. bis 31.10.2016) und "Urban Touch" (Kunsthalle Faust in Hannover, vom 07.10. bis 06.11.). Die Kuratoren wollen grenzüberschreitend ein Bewusstsein und eine Diskussion verbreiten, die Menschen ermutigt, ihre Würde neu zu definieren.

Namentlich beteiligte Kuratoren sind: Drorit Gur Arie (IL), Risa Takita (JP), Syowia Kyambi (KE), Tomasz Wendland (PL), Harro Schmidt (DE).

Mit "OSTRALE weht ODER" wird darüber hinaus bereits ein Austauschprojekt mit Dresdens Partnerstadt und der diesjährigen Europäischen Kulturhauptstadt Wroclaw realisiert, das bereits begonnen hat. 64 Dresdner Künstler stellen seit 13.05. bis 31.07.2016 in den Räumen der Kulturbrauerei (Browar Mieszczański Wrocław) aus. Federführend stehen hier unter dem Management von Thomas Dumke und den Kuratoren Sybille Nütt & Detlef Schweiger, Andrea Hilger und Antka Hofmann neben Anna Kudarewska (PL).